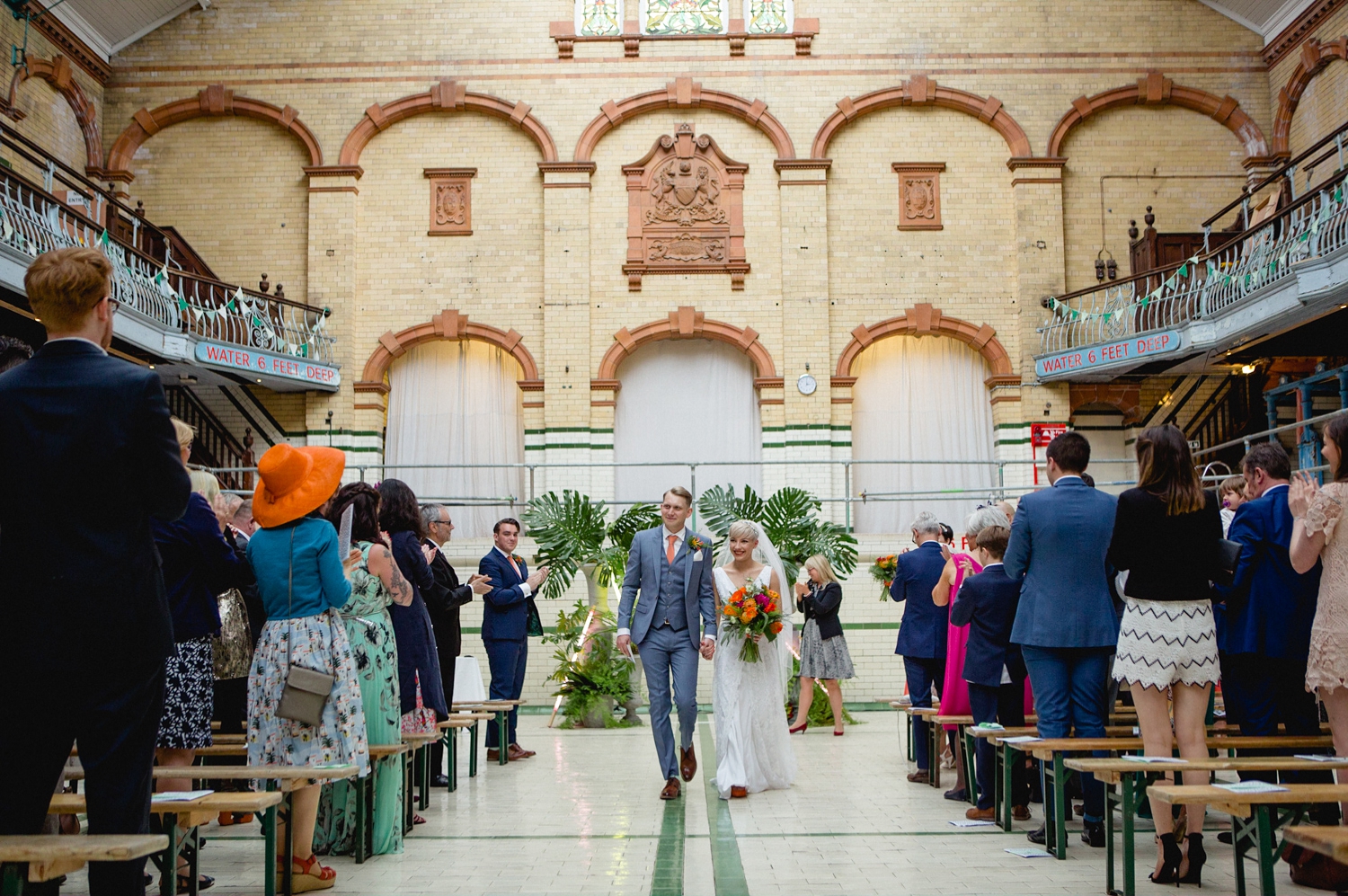 Lauren & Sam at Victoria Baths | Swimming Baths Wedding Venue Manchester
I first met Lauren and Sam at the Victoria Baths vintage wedding fair. They were in the process of deciding on a location to get married and the swimming baths wedding venue was top of the list. After chatting about their plans, it was clear that the celebrations would be ace with a cool and minimal feel.

Before the wedding day we got together for a pre-wedding shoot in Manchester, apart from exploring the Northern Quarter and Ancoats they suggested we pop into a chippy to get some images. The inspiration came from Roisin Murphy's Overpowered album cover and was a great laugh to capture. It gave me a great idea of what they wanted from the wedding day as well.
Victoria Baths is a unique swimming bath wedding venue that allows everyone to really work with the space to suit the style of the day. For Lauren and Sam the ceremony centrepiece was the stunning backdrop from Frog Flowers in the Northern Quarter. David is a genius with flowers, and created a massive botanical piece including some massive monstera's mixed together with neon lighting. The look changing throughout the day as it got darker. Lauren and the Bridesmaids bouquets played with colour and included vibrant red and orange flowers to work with the shoes and skirts.  
There were loads of great personal touches to the day. Sam's Mum made a custom wedding dress for Lauren. Having free reign to design together the dress was satin, and had a lace sleeveless overlay for the daytime. In the evening the lace came off to reveal the dress for the dancing. Sam's mum also made custom bridesmaid's skirts. These matched with a white top each bridesmaid could pick the style to suit them.
The main ceremony room was split in two with a wall of disco balls, food served family style with plenty of wine, and the favours an ace custom die pin badge. The speeches had everyone in stitches, and wincing from the boozy shot during the best man' s.
With Sam proposing at the Green Man Festival during Father John Misty's set, they had to choose Chateau Lobby #4 as the first dance. We also did a little homage to Father John Misty with a couple of portraits in the evening styled around his series of images where he's ignoring the camera on his phone. Music was a big part of the day with the evening celebrations being played out by friends and family doing individual sets. When you've got friends who are DJ's, have radio shows and great taste in music why not. 
If you are looking at getting married at Victoria Baths, the ultimate Swimming Baths wedding venue in manchester be sure to check out the other weddings I've photographed there.