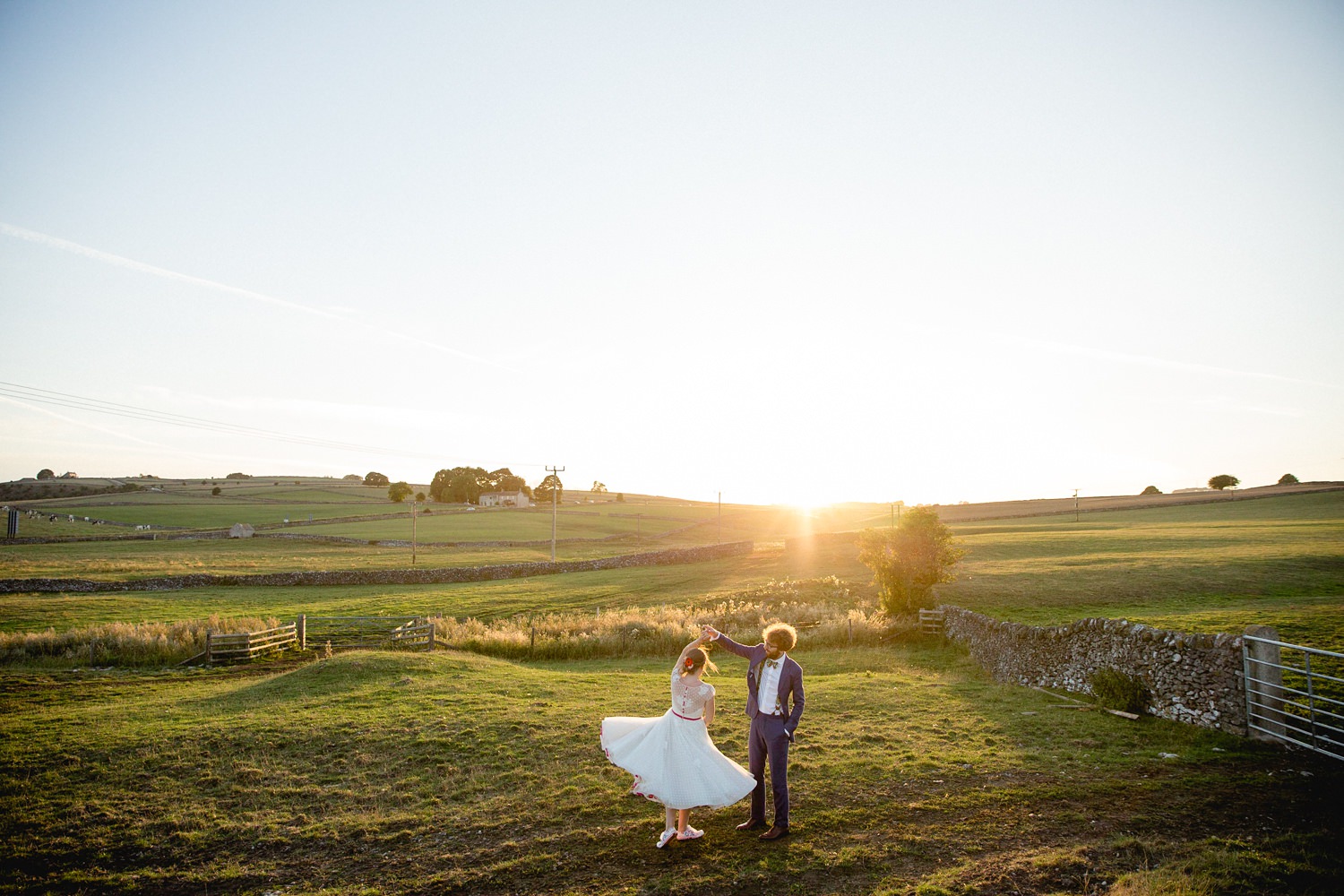 Heather & Paul | Peak District Holiday Barn wedding & Cressbrook Hall
Favourite wedding combinations? Peak district / outdoor ceremonies / craft beer / bluegrass band and plenty of games and dancing. Well Paul and Heathers Peak district wedding outdoor wedding ticked every box.
I met Heather and Paul when we shot their pre-wedding at Yorkshire Lavender in the middle of summer without the lavender which is another story for another day. I knew from the get go that their wedding would not disappoint and how right I was!
The wedding kicked off on a clear day (rare in the peaks!) in the summer at Cressbrook Hall, which has epic views towards Monsal Trail. Heather and Paul also opted for an outdoor ceremony which we all love! Heather arrived in a vintage VW, looking immense in a vintage inspired dress from the Fairy Gothmother, Paul looking great in his blue suit and bright floral accessories. The couples attention to detail just topped off their day, no detail was missing.
Heather had made the flowers herself which complimented the bright colour palette used throughout their day. With the ceremony in the bag we headed over to the peak district holiday barn to start the party.
Heather and Paul were keen to make sure their guests had some fun and the barn was filled with games from an old swing set, coconut shys and hook a duck. It was ace to watch the guests enjoy themselves so much, helped along with drinks in the sun and tapas. After some relaxing and enjoying themselves Heather and Paul sat down for their wedding breakfast from the Butlers Pantry breaking for speeches in between courses.
The room was decorated in keeping with the theme for their wedding, so loads of bright colours, colour pop umbrellas adorned the ceiling, mismatched chairs and banquets tables ensured the guests could socialise and get in on the speech action. Heather also had the ace idea to ask some guests if they wanted to make a cake which then compiled what can only be described as an enormous cake table filled with everyones bakes.
With dinner in the bag off we went into the setting sun with the epic Peak District as the back drop, the couple enjoying themselves dancing around the fields and looking blissfully happy. I just watched them enjoying themselves and took some awesome portraits in the process. With the portraits done it was officially time to kick the evening off which they did with style, opting for a jive against the backlit dancefloor just looked ace and had everyone smiling.
And just when I thought the wedding couldn't get better, the bluegrass band came out, the floor was filled and everyone got their dance on. Helped probably by the craft beer filled honesty bar. It was genuinely such a pleasure to shoot such a lovely couples wedding, they were so happy throughout their day and went above and beyond to make sure everyone enjoyed themselves too. Thanks for having me!